What Remains of the Day
- Memories of World War II
Prisoner's Barracks (Stalag XB, Sandbostel, Germany) (2015)
Valley of Death (Flossenbürg Memorial and Museum, Germany) (2016)
Foundation of the SS Reich Main Security Office, Gestapo Headquarters, Security Police, Security Service, and Task Forces; Berlin Wall, Reich Aviation Ministry (Berlin, Germany) (2016)
Jewish Ghetto (Krakow, Poland)
(2016)
Watch Tower (Dachau Memorial and Museum, Germany) (2016)
House of the Wannsee Conference (Berlin, Germany) (2016)
Jewish Ghetto Terezín (Terezín, Czech Republic) (2019)
Location where Reinhard Heydrich, the commander of the Reich Main Security Office who had chaired the planning of the "final solution" and acting governor of the Protectorate of Bohemia and Moravia, was assassinated (Prague, Czech Republic) (2019)
Small Fortress (Terezín, Czech Republic) (2019)
Praha-Bubny Train Station from where Prague's Jewish inhabitants were transported to the Nazi ghettoes, concentration camps, and extermination camps (Prague, Czech Republic) (2019)
Berlin's First Concentration Camp at the Wasserturm in Prenzlauer Berg (Berlin, Germany) (2019)
2014 - 2019
30 x 30" or 30 x 37.5"
Archival Pigment Prints
Edition of 5, 1 AP
"What Remains of the Day – Memories of World War II" explores the aftermath of World War II and the Holocaust on contemporary life by grappling with time and memory through images of places and people. I photograph places that evoke the horrors of the Nazi regime by overexposing the images for one second for every year since the war ended in Europe on May 8, 1945 so that only traces of the resulting images are recorded. For example, photos taken in 2016 (71 years after the end of World War II) were overexposed for 71 seconds. Much like memories, the photographs are fragmented and ambiguous, and some are in color, others in black and white.
Ministers' Gardens (Berlin, Germany) now: Memorial to the Murdered Jews of Europe (2016)
Congress Hall (Nazi Party Rally Grounds, Nuremberg, Germany) (2016)
Below Forest (Germany) (2014)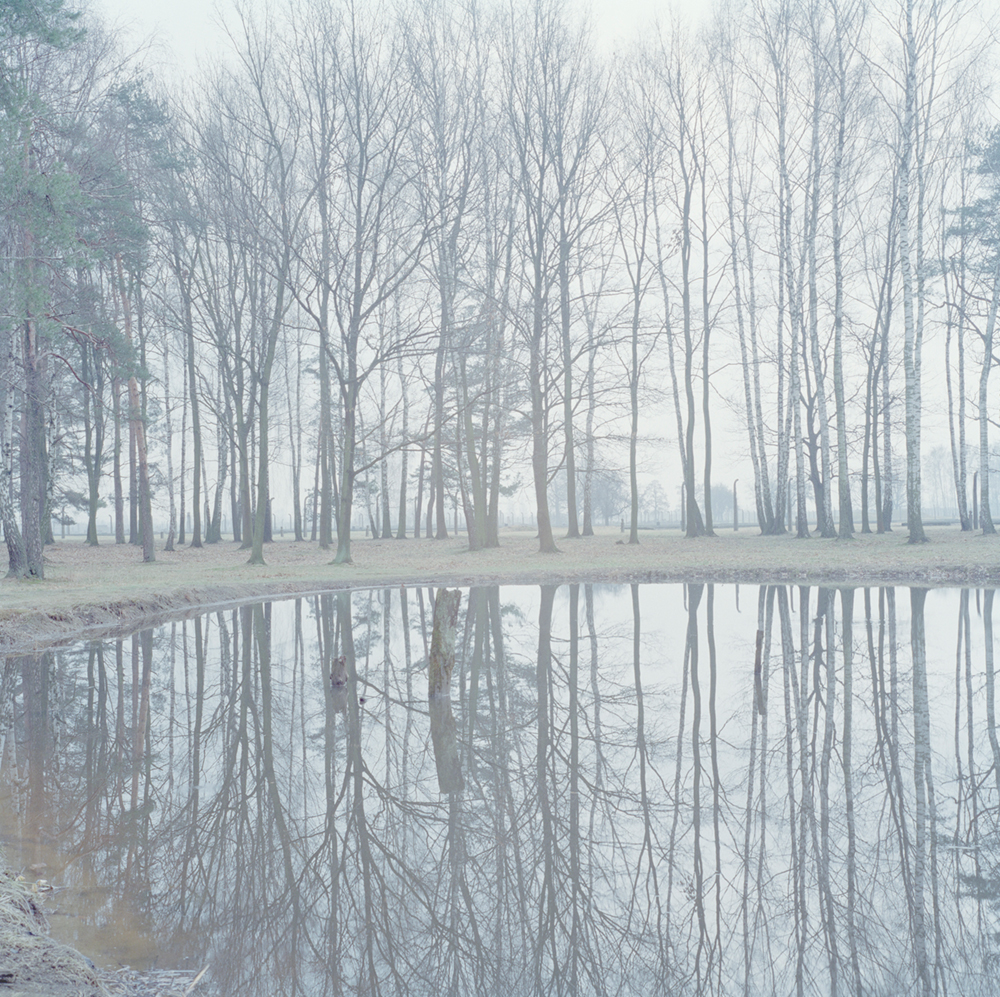 Pond in Which the Ashes Were Disposed of After Cremation (Auschwitz-Birkenau Memorial and Museum, Poland) (2016)
Tree on Foundation of Prisoners' Barracks (Sachsenhausen Memorial and Museum, Germany) (2014)
Gleisdreieck (Track Triangle) near Anhalter Bahnhof (Berlin, Germany) (2014)
Piaśnica Forest (Piaśnica Wielka, Poland) (2019)
The places I photograph include concentration, labor and death camps, the Reich Aviation Ministry, the House of the Wannsee Conference, and the D-Day Beaches in Normandy, France, or the Atlantic Wall fortifications in Brittany, France.

Pointe du Hoc, Atlantic Wall Fortifications (France) (2017)
Omaha Beach (France) (2017)
Artificial Harbor for the Invasion of Normandy (Arromanches-les-Bains, France) (2017)
Gold Beach (France) (2017)
American Cemetery (Colleville-sur-Mer, France) (2017)
Atlantic Wall Fortifications Cité d'Alet (St. Malo, France) (2018)
Bunker of the Atlantic Wall Fortifications (Saint-Lunaire, France) (2018)
I explore people through portraits and interviews. I select people who experienced the war in diverse ways: including Holocaust survivors, Germans, and Allied veterans. These interviews present personal perspectives on the war and the Hitler regime. I have interviewed and taken portraits of 22 people. The portraits were taken in Germany, the UK, the U.S., and the Czech Republic.

Peter (2017)
Ruth (2016)
Friedrich (2017)
Walter (2018)
Herbert (2018)
Doris (2019)
Godela (2018)
Renée (2018)
Barbara (2018)
Felix (2017)


Hal (2018)
Tibor (2017)
Wilfried (2018)
Werner (2019)
Eve (2017)
Margrit (2018)
BT (2017)
Hans (2018)
Heinz (2016)
I was born and raised in Germany, so I have a personal relationship to the aftermath of WWII and my family's involvement in the war. I now live in the U.S., which enables me to view my home country through a different lens. My background as urban planner, visual sociologist, and photographer qualifies me to both interview and photograph people and places. With this project, I offer an approach to place, history, and personal trauma that is historical but still resonates in contemporary U.S. and European politics where anti-Semitic, anti-immigrant, and anti-Muslim sentiments have risen. The photos encourage the viewers to think about how the horrors of Fascism and World War II are still relevant today. What will happen to Europe as anti-immigrant right-wing parties become stronger? Is U.S. democracy weakening and heading towards authoritarianism? "What Remains of the Day – Memories of World War II" engages its viewers by forming a bridge between the past and the present.




Witnessing Memory - Eve Willman, Werner Höpfner, Tibor Spitz, Margrit Metzmacher (excerpt) (2019) | Sound Installation | 55:05 minutes